Janome America, a leading force in cutting edge sewing technology, sought to create an online experience that is as up-to-date with the latest trends as their machines.
The Challenge
We saw a bigger picture in leveraging their brand. There was an opportunity to address the needs of their target audiences and provide support to Janome customers.
What We Did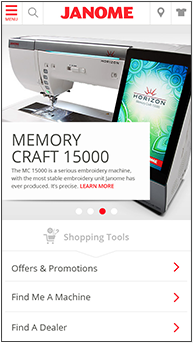 Experience Architecture
Created an online experience that aligns Janome's value, purpose, and services to support the many reasons visitors would come to the Janome site.
Thoughtful Design
Leveraged the brand by designing the site that educates the Janome audience about their products and where to find the closest Janome America dealer.
Web Development
By bringing Janome's three separate sites under one roof and having Episerver as their content management system, Janome is able to easily manage the site within their web browser.
Content Marketing Strategy
Using multimedia, Janome was able to help tell their story, foster inspiration, and idea sharing within the sewing community.
Custom Integrations
Two features that were built into the CMS that iMedia utilized for Janome were Episerver Relate and Commerce. Both add-on modules have helped to enhance the users' experience with the brand.
"iMedia has created a wonderful site! Janome.com focuses on highlighting the beauty of our sewing machines and projects that inspire sewists around the world. iMedia built a comprehensive site that allows our team to focus on creating engaging content for the sewing community."
The Results
Since launching, Janome.com became "the place to go for machine sewing information and inspiration"—not necessarily just for Janome brand machines but for content that appeals to the sewing and crafting industry. The site is welcoming, clean, and demonstrates Janome's status as an innovative company whose products are cutting edge. Within a year Janome has seen the following increase in their website's conversions:
longer time on pages per sessions